That feeling of having Rajma after a long day – Heavenly!
Aren't we all just in love with it? I remember skipping breakfast to be able to eat more Rajma Chawal at lunch. It wouldn't be wrong to say that all the North Indians are bonded with it being our soul food instead of being eaten in contrasting ways.
Rajma or Kidney beans are found in every brown household, especially in the north. They are mostly grown in Kerala and Maharashtra but Himachal, Uttrakhand and Jammu and Kashmir are also contributing producers, rajma from the hills being the popular ones.
Kidney beans are very beneficial for our bodies as it is a well-known alternative to non-vegan sources of protein. It is rich in fibre which fills the tummy fast and keeps us from binge eating and snacking, thus helping to balance the body weight.
Rajma is packed with antioxidants and is known to be a natural detoxifier and its low glycemic index is ideally suitable for diabetic people. It also keeps the heart and skin healthy.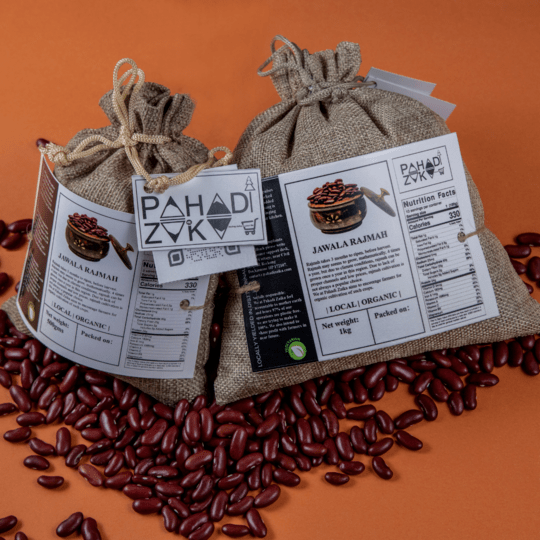 Basically, besides being very tasty, it makes you beautiful from the heart to the skin. Yes, I would date Rajma if it were a person!
It is burdensome to grow kidney beans in the mountains. In spite of being capable of being grown twice a year in the south, it can be produced only once in the hills due to very low temperatures in the winter. Although it is a cash crop, its low market value demotivates the farmers to continue cultivating it.
A step was needed and thus, Pahadi Zaika initiated building a producer-centric venture where the aim is to provide farmers, the value much higher than the market prices, the value they truly deserve. It helped in the growth of the production of different types of kidney beans in the Kinnaur district of Himachal Pradesh.
Pahadi Zaika brings five types of organically grown rajma from Kinnaur.
Capsule Rajma
Jawala Rajma
Chitra Rajma
Yellow Rajma
White Rajma
Now there's no sticking to one old taste. To add more flavour Pahadi Zaika is always at the rescue.
You can buy 5 types of Rajma from Pahadi Zaika using link Rajma